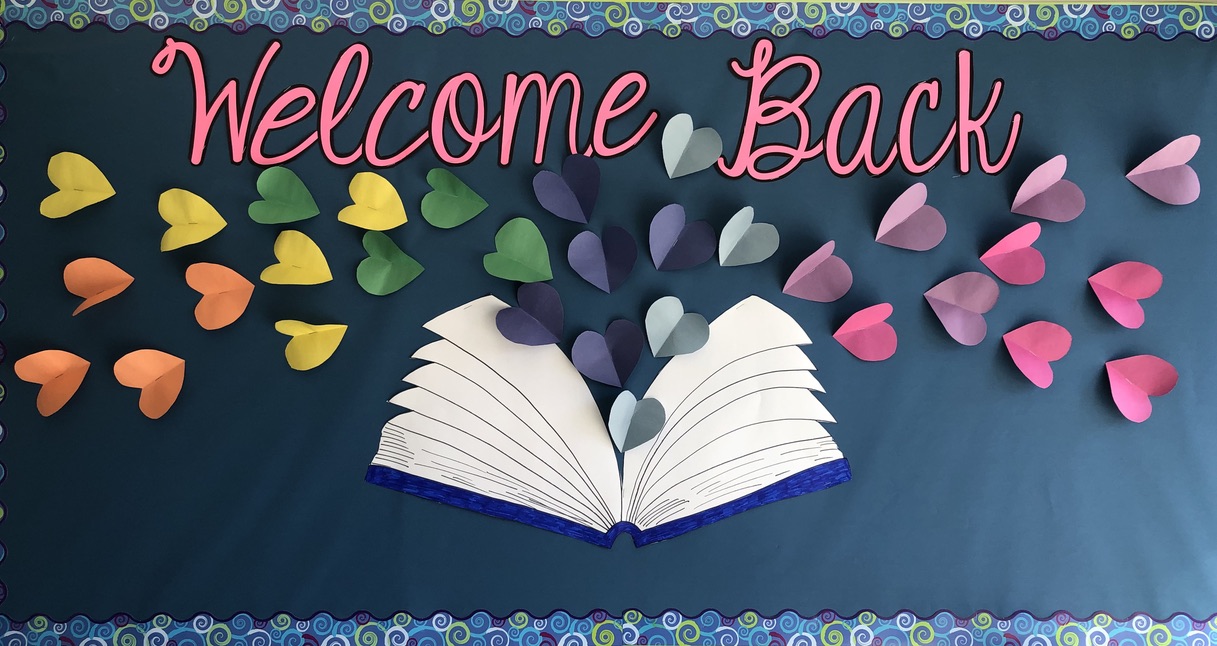 06.09.21
Principal's Update – September 6, 2021
The first day of school is almost here! We look forward to welcoming all the new and returning students on Tuesday, September 7th.
Arrival & Dismissal Routines
Follow the guidelines put in place by Ottawa Public Health (OPH), at Fern Hill School, every grade will be their own cohort.  Cohorts will not mix together.
At recess time, for instance, the classes may be outside at the same time, but playing in different parts of the playground.
In an effort to reduce the number of times when cohorts could "cross each other's path", we will have staggered arrival and dismissal times.
Preschool                    Arrival Time:  9:00 am            Dismissal Time:  11:30 am or 2:45 pm
JK & SK                      Arrival Time:  8:45 am            Dismissal Time:  12:00 or 3:00 pm
Grades 1 – 5                Arrival Time:  between 8:00 -8:20 am            Dismissal Time:  3:10 pm
Grade 6                       Arrival Time:  between 8:00 -8:10 am            Dismissal Time:  3:15 pm
Grades 7 & 8              Arrival Time:  8:00 am                                     Dismissal Time:  3:15 pm
Children (families/parents) arriving at school should go directly to the back yard to wait with their cohort. Students will enter the school through the back door. Parents and students entering the yard should wear a mask.
Students will be screened each morning. Parents are required to complete the screening grid each morning and provide their child's temperature. The Screening Booklet will be checked in the yard before the student enters the school.  Students may also have their temperature taken when they enter the school.
At dismissal time, the students will be brought out by their teachers, in their grade groupings. Parents should wait outside for their child.
Please let your child's teacher, and the secretary, know if your child has permission to leave by the front door at the end of the school day.
Thank you parents for your assistance, understanding and patience. By working together, we can provide the safest environment possible for the students and staff at Fern Hill School.
Health and Safety Measures
Attached please find the Daily Screening Sheet that parents are responsible for completing each morning. The attached Daily Screening Sheet is  "as per" the Ontario Ministry of Health. We are currently waiting for the new Student Screening Tool to be provided from Ottawa Public Health – OPH. (Note:  The Screening Tool for Fern Hill School will be updated as necessary.) Please print the attached Daily Screening Sheet at home and bring it in with you on the first day of school. The Daily Screening Booklets will be sent home with all the students on the first day of school.
As a Health and Safety measure for all the students' masks are required for students in JK-Grade 8.  Masks are also worn by Preschool students in all common areas of the school.
 Students will have an opportunity for "mask breaks" when outdoors and physical distancing can safely be maintained. Please continue practicing mask wearing with your child.
Children born in 2009 and earlier are eligible for the Covid vaccine. The Ottawa Public Health website www.ottawapublichealth.ca will have information on booking a vaccination appointment for your child if you have not already done so (for Grade 7 & 8 students).
 Parking 
With the return to school, we wish to remind all parents to be extra vigilant for children.
The area in front of the school will be for drop off only with absolutely no parking allowed on the school side of Vaughan Street.  It is simply a drop-off zone.  It is expected that parents will pull up in front of the school and the children will hop out with their school bag.
Unattended vehicles on the school side of Vaughan Street pose a hazard to our students and are regularly ticketed by the city. Parents, please pull up in the direction of the flow of traffic and refrain from parking in front of driveways. Please do not allow your vehicle to "idle" while you park.
Parking is available on the north side of Vaughan Street, the east side of Bertrand Street, the west side of MacKay Street and the north side of Springfield Road.   Please do not park so that the neighbours are prevented access to their driveways; as well, please do not park in the neighbour's driveways.  In all cases, do not park so as to impede the traffic flow on the street.  If you are approached by the staff member on duty please remember that he/she is acting in the interest of student safety.
There are a few parking spots at the front of the school. These spots are for quick "in & out" drop-off and pick-ups. Please do not park in these spots for longer than 5 minutes.
If possible, please consider parking a block away from school to help avoid congestion.
Mental Health 
The last 18 months of the pandemic have been very stressful. While the return to school "in-person" in September is an exciting one, it can also be challenging for some students and families. The School Mental Health Ontario website www.smho-smso.ca  will have some articles about supporting mental health and wellness during the return to school that may be of interest to parents.
School Supplies
School supplies can be brought into school on the first day. (They are always a big part of the "back to school" preparation.) Students will be keeping all supplies at their desk on in their individual cubbies.  Please label all your school supplies.  (In order to reduce the spread of COVID-19 school supplies will not be shared between students. The school will always have extras available.)
Footwear
Students should keep 2 pairs of shoes at school.
Black dress shoes, worn on the "Dress Uniform" days *
Running shoes, worn on the "Gym Uniform" days *
Students will wear outdoor shoes (or boots, depending on the weather)
to and from school every day.
Lunch and Snacks
Students from kindergarten-grade 8 will eat in their classroom with their class cohort; food sharing is not permitted.
Students should bring their own utensils and water bottles.
Please send items that students can manage independently. Practice before school starts.
All empty food containers and garbage are to be taken back home with the student. Try to bring a waste-free lunch if possible.
A Hot Lunch service, from Mazzola, will be available in the 2021-2022 school year. Hot Lunch service will not run the first week of school, but it will start on Monday, September 13th. As soon as this is finalized, parents will be sent order forms from the Hot Lunch company. Orders are placed directly with the Hot Lunch company.
Dress for the weather!
Students should be prepared for varying weather conditions (sunhat, jacket, raincoat, boots, etc…).
Forms
Many forms were sent home by email recently – After School Care for, Subway form, Allergy Forms, Hot Lunch forms, Code of Conduct, Social Media Policy,  etc.…. If parents could return these forms by Friday, September 10th it would be appreciated.
Additional forms (those I was not able to attach in an email) will be sent home during the first week of school.
While After School Activities are currently "on hold", we do hope to receive information from OPH soon regarding strategies to limit and mitigate any possible COVID-19 risk so as to allow for the safe operation of mixed cohort after school activities.
Questions?
The Parent Handbook will provide additional information about the 2021-2022 school year. Please feel free to contact me should you have any questions.
I look forward to welcoming all students to school next week, on Tuesday, September 7th.
Kindest regards,
Deborah Gutierrez